Cortec's Cooling Loop Croc™ is a powerful combination of contacting and Vapor phase Corrosion Inhibitor (VpCI®) powder packaged in polyvinyl alcohol (PVA) water-soluble bags. It was developed for the startup of cooling towers that have been shut down for an extended period of time. The Cooling Loop Croc™ provides temporary corrosion protection along with cleaning of organic materials such as biofilm during startup. It can be used independently or in systems where the Cooling Loop Gator® has been applied for layup.

Package and Storage: Cooling Loop Croc™ is available in 1.1 lb (0.5 kg) bags, four bags per box. Dimensions: 6" x 9" (15 cm x 23 cm).
To ensure best product performance, store in original packaging, indoors, and out of direct sunlight at 40-100 °F (4-38 °C).
Shelf life: 2 years
View Product Data Sheet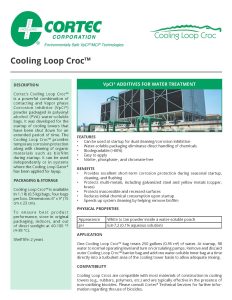 Contact us!